Tameeka Lynch, Finance Broker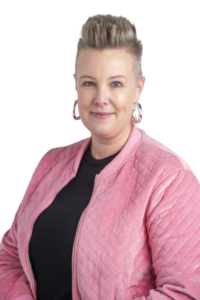 2020, 2021 & 2022 Choice Platinum Broker
2020 MFAA Excellence Awards – Newcomer Award
2019 Choice VIC/TAS Rookie of the Year 
Existing clients: Book your annual check in with Tameeka here.
Mobile:  0417 627 538
Email:  Tameeka (at) uploans.com.au 
Scan the QR code to save Tameeka's details to your phone.
Life before Up
Tameeka started her working career in her family's business at age 14, folding towels, making beds and selling homewares after school and in school holidays. She completed her Year 12 studies and went to work full time in the business doing the admin and finance for 8 years. Because working full time wasn't enough, she studied at University by correspondence in her free time, and made her parents super proud when she graduated with a Bachelor of Commerce.
Most recently, Tameeka comes from a commercial banking background having spent 13 years at ANZ as a Business Banker across all types of business. She has experience in teeny tiny loans for little businesses, huge, multi-million dollar loans for big businesses and everything in between.
In 2018 Tameeka decided to leave the world of one bank and come over to broking, where she is able to nut out a solution for her clients from a choice of lenders. Tameeka loves problem solving for banking and finance requirements so this move feels like she's found a career path where she can utilise her skills and talents to provide amazing outcomes for her clients.
Outside of work and business, Tameeka has two teenage girls who keep her busy as Mum's Taxi. She loves spending time at home, considering herself a true 'homebody'. She enjoys decorating her home, thinking about sewing (because really, she doesn't have time to actually do it!) and 'working' on her social media. She loves foraging for, and then cooking all types of food and then sharing it with kids or friends over a pale ale, bubbles or wine.
Up Specialties
Tameeka loves talking to business people and working out solutions to their banking and finance needs. It's a real buzz getting business finance approved! But what comes first is speaking with the client about what is important to them, working together with their accountant and any other professionals, finding the best way to structure the finance based on their needs, submitting a thorough and straight forward application to the bank, working through any objections to the application with the banker, before finally receiving approval with conditions, then working through the conditions to final, full approval. Phew! What business owner has the time and energy to deal directly with the one bank, where they may not even get the best rate or outcome for their needs? Tameeka makes this process of business finance easy for business owners.
As well as business banking, Tameeka has a strong personal interest in real estate and loves all things property, renovation and investment. Tameeka has personal experience with long term rental properties as well as a short term rental property on AirBnB. Tameeka loves to help people buy investments! She believes it's a great way to build long term financial wealth as well as providing short term income and benefits.
As well as commercial loans and investment properties, Tameeka can also assist with the general home loan enquiries, vehicle finance and business asset purchases. She's a bit of an all-rounder.
Tameeka considers it an absolute privilege to be able to help individuals and businesses get one step closer to their financial goals!
Tameeka's Property Journey
Tameeka bought her first home at 25 years of age as a young, single borrower. She often thinks (as we all do) that she probably should have bought a house or investment property earlier, but hey, life was lived, travel was done and it's never too late to buy your first (or second, or third) property!
Tameeka has bought and sold a few houses and each time she has learned so much, which she is always willing to share with people who are interested. Most recently she bought a little dump (project!) and renovated it, which was stressful, exciting, scary and fun, all at once! It was a great success (eventually) and she's added another experience to her bank of life experiences – thank goodness she doesn't mind putting on some old clothes and picking up a paintbrush.
Renovating property is not everyone's cup of tea, but there are plenty of renovated properties in the market which are great investments. And while having an investment strategy and managing a rental property might seem daunting, there are lots of great people in the local property market to help make the transaction between a landlord and a tenant easier. Just ask Tameeka. And have you heard about the concept of good debt and bad debt? Tameeka can explain, and help you with both.
The Future
Tameeka likes to travel and always has a small or big trip planned and considers shopping for travel a sport. While she loves Tasmania and considers it her home and the place for her soul, she also loves hot weather and that is one thing Tasmania doesn't do well. So a budget family holiday in a tropical climate is always on the radar!
Tameeka is very self aware of her 'Why' – the reason she's here and doing life this way – and is motivated and inspired by helping people who are less fortunate than herself. She considers it part of her job to ensure that wealth and knowledge is spread around and that others have an opportunity to progress in the world where they might not have had an opportunity otherwise. You can be sure that by working with Tameeka, part of the revenue she generates from your transaction will be passed on in the community to benefit others.
Charitable Donation:
 Each month the Up Loans team chooses to make a charitable donation based on the number of loan's written and team member contributions. Tameeka chose: Be Hers
Tameeka Lynch is a credit representative (508854) of BLSSA Pty Ltd ACN 117 651 760 (Australian Credit Licence 391237). 
Call or email Tameeka to schedule an initial chat or 15 minute home loan health check.