Stage 4: Getting your fixed price building quote and valuation.
We've put together a list of the items we will need in order to get a valuation done on your property and progress your application with the lender.
Please note: you will need to notify us when your build is ready to be valued. Do not rely on your builder to do this – always confirm with us as you're getting close to the stage of having these documents.
When we have these documents a valuation will be completed, then a home loan application prepared for your build. This takes time. Please note that your builder will take time to prepare these documents, we then need time to get your loan approved. The more time we have the less stressful the process will be for everyone involved.
1. Fixed price building quote
Note – this is not an estimate, it's not an invoice, it's a really specific document that the bank need to send a valuer to your block and to look over your plans to ascertain what they think it's worth. It is the contract you sign with your builder to build your home AND it lays out all the payments due and that they will occur at a fixed price in stages.
Your builder will provide either a Master Builders standard building contract which is very commonly used, or the HIA standard contract – click here to see an sample of a standard building contract.
The fixed price building quote will spell out not only the work to be completed, but also how the builder wants to be paid in stages.
Examples of the stages may be:
Deposit
Base or Foundations or Slab (different names can be used) – they all basically refer to the completion of footings such as stumps or a concrete slab.
Frame – the completion of the framing stage for the building and approval by a building surveyor. Typically roof framing also is done at this stage if masonry walls are in the property.
Lock-up / internal lining – completion of the external wall cladding and roof cover (so you can lock up the property). Flooring may be laid here, but may also not be. Windows and doors externally are fixed and the building is secured from weather (and vandalism).
Fixing or Fitting – this is where your internal fitouts including internal architraves, skirtings, doors, joinery, baths, basins, troughs, cabinets, skins and cupboards are in situ.
Practical completion / final stage – completion of the property so you can get an of occupancy certificate or certificate of completion.
Some lenders are very specific on how they want these stages paid, for example ME bank specify:
Slab down/base – including any deposit previously paid – 15%
Frame/plate height 25%
Roof on 25%
Lock up 15%
Final/completion 20%
Another lender – St George / Bank of Melbourne (owned by Westpac) list their standard schedule (although not a 'set in stone' blueprint as):
Foundation / slab (including deposit) 20%
Frame 20%
External lining 30%
Lock up / internal lining 20%
Practical completion 10%
Things to be aware of:
– If the valuer deems that the builder's quote is not in line with the bank's best interests, they'll often comment and the builder may need to amend their schedule.
– Do not put anything in your build contract that states that you will do any of the work, without speaking to your broker first. 
– If you have other contractors it is best if you can get your builder to incorporate their invoices into that one fixed price building quote otherwise you may find that the bank won't pay that invoice until completion (or in some cases at all) – best to let your broker know up front if this is going to be the case so the best lender can be chosen.
– Make sure you're only sending through the final agreed contract as any changes made after the valuation typically need to be paid for from your own pocket.
– The more heavily weighted a builder has to the funds being given to them up front, the more likely it is that a valuer or the lender will have issue with their schedule.
– And as always, do not sign your fixed price building contract unless it shows the full build cost and is subject to finance, we also strongly recommend you have a solicitor look over your fixed price building quote and advise you on it the same way they would when buying your land with that contract.
If you do not have your fixed price building quote but just have a builder's quotation we can order a valuation based on this provided:
they are your final choices
your builder has put in the progress payments they want (see percentages above)
there is as much detail as possible (detail gives you a higher chance of your valuation coming up to what we hope it will dollar wise!)
2. Plans
Your plans don't need to be council approved to get a valuation done and your finance confirmed, but you will need to provide the council approved and stamped plans prior to the lender making the first payment.
3. Inclusions
Here's where detail matters.A detailed specifications and inclusions list is a listing of the internal and external fittings and fixtures which indicates the proposed finishes and specifications of the property. Including but not limited to items such as bench tops, appliances, cabinetry, tiling/flooring, landscaping, furnishings etc.
Your inclusions detail the specifications of everything going into your house. They spell out whether you're having laminex benchtops or marble! And as you can imagine a difference like that will impact a valuer in their assessment as to the price your home may be worth. The more detail the better. The less a valuer has to guess, the easier it is to do their job and hopefully, say your home is worth what you're spending.
Here's an example of a very detailed inclusions list. The valuer doesn't have to guess as to the quality of what's going into the home (because rest assured if the valuer has to guess they will assume a lower quality). If you do not have a detailed list of inclusions the more chance you have of getting a lower valuation.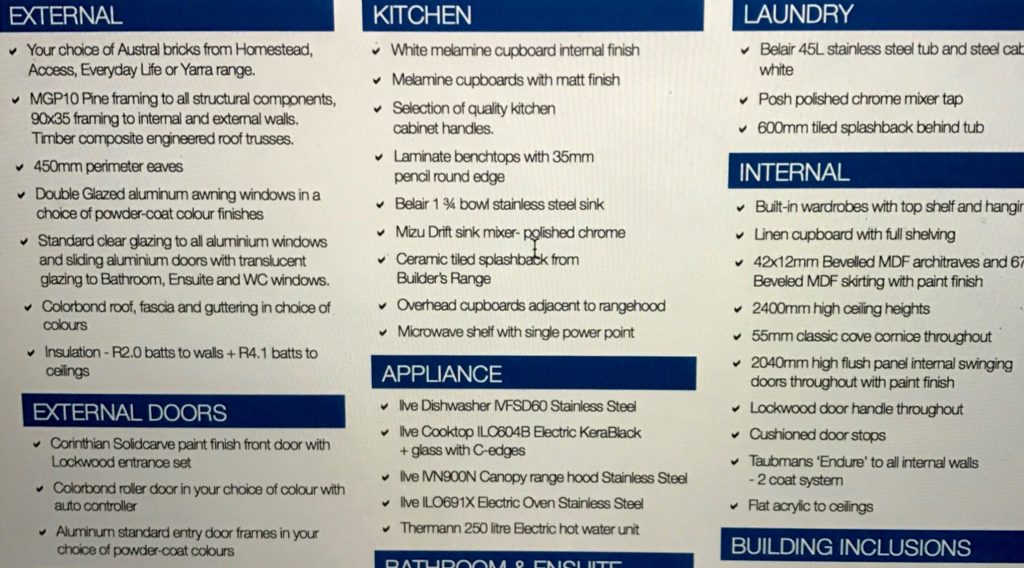 4. Builder's Insurance
Now is also a great time to get a copy of your builder's insurance and forward that to your broker as the bank also require a copy of this.
Valuation – what happens if your build doesn't value up?
Now, when your valuation is done it is done as a TBE (to be erected) and your broker will order this for you. This means that the valuer does his or her best to estimate what the home will be worth when it is finished
The best-case scenario (typically) is usually that your build comes in at land price + build cost price. That's what the hope is (with potentially an increase in the value of your land since you bought it). If that happens, then the estimates your broker used at the beginning of the piece should all flow nicely.
But – sometimes the valuer does not believe that the value of the property you are building is going to realise the cost of it at the end of the day. This can be a problem especially if you don't have a large deposit or a large amount of equity to contribute. If this happens your broker will step you through the rationale that the valuer has given you (although they won't be able to send you a copy of your valuation report) and then you have some decision to make. Some options will include:
Renegotiating with your builder
Refining what you want in your home
Having a new valuation (at a different bank) organised by your broker
Choosing a new builder
Contributing more equity to your build in the way of savings, a cash gift or potentially a guarantor supported application
Having your home not value up is one of the big potential issues with any build. If happens, we'll step you through what your options are and guide you as to how to keep continuing on.
Here's what Leah had to say about her finished build: 'I love that we got exactly what we wanted, our dream house, the building quote was reasonable and that meant we could upgrade fittings and fixtures to have exactly what we wanted.'
You can keep this to read later if you're not at this stage, or you can zoom ahead or backwards to the other stages as you need to make this process move at your pace:
Stage 1: Is building right for you?
Stage 2: Buying your block of land
Stage 3: Planning your build
Stage 4: Getting your fixed price building quote and your valuation
Stage 5: Approval for your home loan and progress payments
Yell out if you have any questions along the way, and remember the only silly questions are the ones you don't ask!
Happy planning,
Kirsty
'Oh Kirsty thank you so much. You have been absolutely amazing and we could not have done it without you. You have made the process so much easier than it could have been! We really can't thank you enough. We appreciate everything you have done, and would highly recommend you to anyone. You have kept us in the loop with everything that has gone on and have done everything you can to keep the costs as low as possible for us. Thank you from the bottom of our hearts.'

Sammie & Dave
How stunning is this incredible kitchen! It is a beatiful feature in the home our clients will raise their family in, and we were thrilled to be able to work with them to finance their build.