You can scroll through to each section of the blog below OR continue on reading through the whole thing:
1. Get pre-approved
2. If you're not pre-approved?
3. Signing a contract
4. Deposit amount
5. When do you pay for the costs involved?
6. When you're pre-approved what should you send us when you've got an offer accepted?
7. Valuation
8. Settlement time frame
9. What else should you read
1. Get pre-approved
Firstly – the VERY best way to make an offer on a property is to be pre-approved so you have an understanding of what the bank you're going to go with thinks your borrowing capacity is. Your broker can help you start the pre-approval process so you can make an offer with confidence about your ability to get a loan (and then it's mostly down to whether the bank also think the property is suitable).
If you are pre-approved then your broker will let you know how long of a finance time frame you need (in most cases you will still need to put in a finance clause but it will be significantly shorter).
Remember there are some lenders out there who do not assess pre-approval applications – which means that you can't really rely on a pre-approval from them as no-one has specifically checked any of the information (it's just been run through a computerised system). Due to this we will almost always recommend you have a pre-approval with a lender who fully assesses your pre-approval application.
2. If you're not pre-approved?
We strongly recommend you do not make any offer:
– That does not have at least a 21 day finance clause (Read here for what timeframes to allow for finance)
– Without having a solicitor or conveyancer check over the offer before you sign it (let us know if you need a recommendation)
– Getting in front of your broker as soon as you possibly can and providing them with all your information (it's a lot – be warned) so that they can give you an understanding of any potential hurdles they'll need to help you overcome in your application process
3. Signing a contract
If you're keen on a property and have viewed it we would typically recommend the following steps:
– You ask the agent to email you a copy of the contract
– You send us an email with a link to the property or its full address and ask us to prepare you some comparable sales / history on the property
– You send it on to your solicitor or conveyancer to view and provide and provide commentary on (most will do this at no cost – be sure to ask)
– You have a finance clause in the contract
– If the agent directs you to their 'Online Offer Form' you can watch this helpful video that Kirsty has done to explain what this means.
Typical finance clauses ask 3 things, here's a guide on what to put in:
a) Days for finance – 21 if not pre-approved, ask your broker if you are pre-approved.
b) Lender – unless otherwise advised by your broker put "A financial institution" (as flattering as it is to get contracts saying "Up Loans" as the lender, we're not actually the ones who give you the money – so it's best to put "A financial institution".
c) Funds required –
Below is a screen print from a recent contract we had with pre-approved clients (note they've put a 14 day finance time frame not 21 days)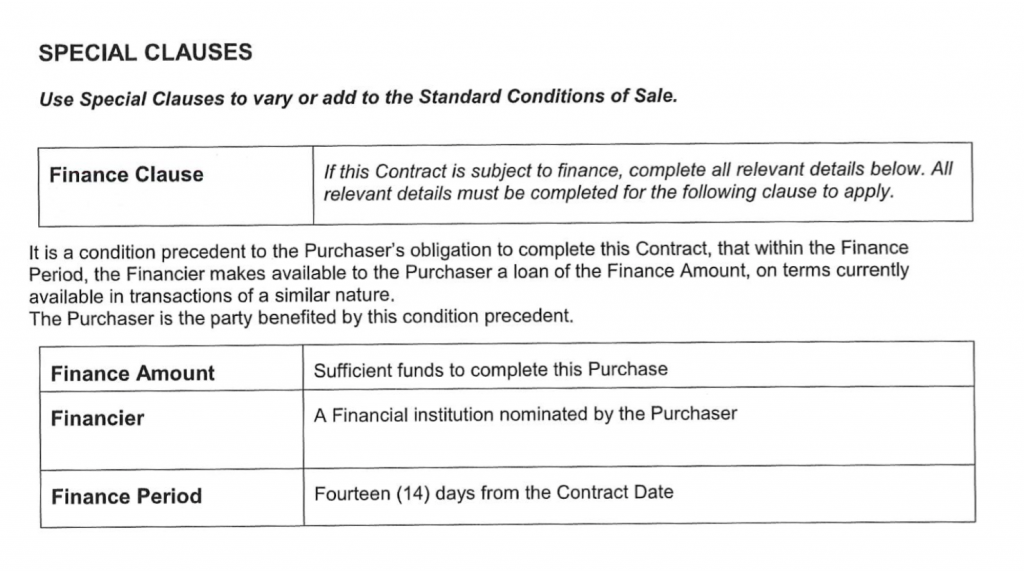 We would also recommend you have a building inspection clause in the contract (your solicitor / conveyancer will help with this and you would have your offer accepted, then typically engage a building inspector). 
You do not need to send us a copy of your building inspection report unless requested by the lender. Any issues / concerns you have with it please talk to your legal representative about options.
Important to remember when signing your contract:
You need your FULL legal name including all middle names.
Do not date the contract when you sign it, it gets dated when all parties have signed and agreed to it.
If for some reason you wish to rescind an offer you've made we recommend you do this in writing ASAP by texting and emailing the agent and then get legal advice. 
Watch this helpful video for an introduction to your Tasmanian Real Estate Contract.
4. Deposit amount
A few things to note on deposit:
Deposit can just be whatever you negotiate with the agent or owner of the property (if you're buying privately). We've seen them as small as $100 or even nothing right through to 10 or 20% of the property's value.


Do not put down any amount as your deposit payable on the contract that you do not have access to in cash.
Any deposit you pay towards the property on the contract will form part of your deposit you give the bank but it does not need to be the same amount. For example if you're putting 20% + costs towards a property – you do not need to put that on the contract, but if you had $5,000 on the contract that would form part of that 20% + costs.
It does NOT need to be the same amount as your end amount you pay to the bank (just make sure it's not more than the cash you have!) 
If the way we have your finance set up means that you don't need to pay a deposit (ie we're accessing equity, you will still likely need to put a deposit on contract, but discuss this with us as we can see this comes back to you at settlement).
Just double check with your solicitor / conveyancer they're happy with the amount of deposit you want to put and quite often the larger the amount of deposit the more of a show of strength it might be if you're up against competition.
Remember, that having a finance clause protects your deposit. You must make all reasonable endeavours to get your finance, but if your finance is not confirmed then you should receive your deposit back. Any questions – double check with your solicitor. 
5. When do you pay for the costs involved?
It's important to note that you pay for your building inspection costs when the report is done (whether you go ahead with buying the property or not). So factor this into your budget and let us know if you'd like a recommendation.
Conveyancer / solicitor costs need to be paid on settlement. Your application will typically be submitted with an estimate for these costs ranging from $3,000 – $4,000 depending on the time of year you're due to settle. Note that when you get a quote from a conveyancer or solicitor this may seem like a really high estimate but it also includes not only an estimate for their fee, but for the rates and other apportionments you pre-pay until 30 June after you settle along with search charges etc. We will always try to be conservative here and overestimate as we do not know what this fee will be and we don't want you to be short on settlement. In some cases we may submit an application stating that you will be saving for the costs of conveyancer / solicitor yourself prior to settlement – this will only be in conjunction with you and after discussing the risks of this with you.
All other costs such due upon settlement such as the following will be factored into our estimates for you. The best document you can refer to here is the loan worksheet we'll provide you with.
– Stamp duty
– Lender set up costs or annual package fees
– Valuation fees (where required – not common)
Below is a screen print of a real client's funding calculator: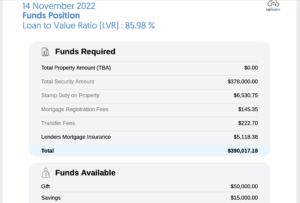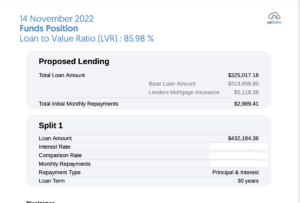 Here's an explanation of the figures at the red numbers:
How much the clients are paying for the property (note these clients were pre-approved to purchase up to $380,000
How much the stamp duty and other state fees are (note these clients are first home buyers, so in this instance their stamp duty was halved)
Loan set up costs (in this case $200 – note this is noted again further down)
Lender's mortgage insurance
The conveyancing estimate we've allowed for (note it's listed twice, but is only counted once)
The end loan amount (see it's noted in two spots)
The interest rate
Comparison rate (this is a VERY important read on this)
Any annual fee due (in this case there are no ongoing fees with this loan)
Monthly, fortnightly and weekly repayments
6.  When you're pre-approved what should you send us when you've got an offer accepted?
As quickly as possible please send through to your broker:
Last 2 x payslips each (where appropriate)
Updated savings history for where your savings are located (typically the last 3 months statements)
Confirmation of any changes to your circumstances since you got pre-approved (it's easiest to look at your client needs analysis and quickly advise us of any changes) – the easiest things to forget are Afterpay, Zippay etc (PS – we really strongly advise you do not take out any additional debt while looking to buy a home)
7. Valuation

 
When your offer has been accepted, this is where the bank will typically require a valuation on the property you're buying. In some cases a valuation may not be required (we'll let you know) and in some cases you'll pay for the valuation (this is lender dependant – but isn't common, again we'll let you know).
In most cases however we will order the valuation on behalf of the bank. The valuer will attend the property typically with the real estate agent and will make a report to the bank. Most of the time the report will come back at exactly what you've paid for the property – this is the outcome we are looking for. Note this is even if you pay $281,888 (true story, we had a purchase price of this and 2 valuations to support it!) Basically the valuer is either saying they agree that you're paying market value for the property and that they have sales to justify it or the report comes back at a lower price, or with high risk ratings. If the risk ratings are high or the price isn't as per what you've paid these are issues we'll discuss with you. This is why you still need a finance clause even if you're pre-approved – because the bank not only needs to be happy to lend you the money but happy to lend for that property.
8. Settlement time frame:
Do not ever make settlement shorter than 30 days after confirmation of your finance. (note finance can sometimes drag on so beware that setting a fixed date, if your finance is extended can leave you with little time to settle). 
If you have a property that needs to be moved between lenders then please ensure any discharge forms are submitted to us immediately when your offer gets accepted and again that you do not leave a short settlement period. 
9. What else should you read:
What will help you stand out in a multiple offer situation
Can I borrow extra for renovations?
Can I get a valuation done before I make an offer?
And good luck!! If you have any questions please just ask your broker – there are no silly questions, that's what we're here for.