As real estate markets heat up (as is happening in Tassie right now) buyers find themselves in multiple offer situations more and more often. It can make the already stressful situation of buying a home (especially if it's your first!) that little more nerve wracking. Given that, we thought this handy list might give you some guidance on some options for a multiple offer situation and hopefully some innovative ways to make your offer stand above the rest. 
The first query almost every buyer asks us is some variant of: "the agent says there's another offer, do you think they're telling the truth or just trying to get me to pay more?" It's normal to feel wary when large sums of money are involved, but based on my 20 years experience in the industry, and my dealings with agents on a day to day basis, if an agent tells you there's another written offer, I would behave as though there's another written offer. 
So, how do you make your offer stand out from the crowd? Pick and choose what feels right for YOU from the following list.
1.   Settlement date:  Start with the end in mind. 
The owner of the property not only wants to sell, but has in their mind an ideal time frame for settlement (when you take over ownership). They might want a long settlement to give them time to find their next home, they might want a short settlement to give them the cash for their next purchase or to finalise a divorce settlement. The agent may not give you any information on why they want a certain time, but more often than not they know what the owner's desired settlement time frame is. If you can match that, your offer becomes instantly more suitable to the owner. 
2.   Deposit: Size sometimes does matter. 
A nice sizeable deposit can give both an agent and a seller more confidence that you're more likely to get your finance approved. In multiple offer situations a nice big deposit is often a great show of the strength of an offer and if you have a cheque book, attaching a cheque for that amount to the offer can also be a strong visual cue to the owner. 
3.   Finance Time Frame: The quick and the dead. 
This is where being pre-approved with your broker can be very helpful. If you're pre-approved you can put a shorter time frame if necessary. Shorter time frames can help sell deals. Chat with your broker about the shortest possible finance time frame you can put on the contract reliably.
4.   Brag about your Broker : Let them see US. 
Make sure the agent knows you're working with a broker, and encourage them to contact the broker. Often brokers will have a strong working relationship with the agents in the area and can strengthen how the agent feels about your application.
5.   Round About : A whisker above may be the whisker you need.  
And finally when you think about price, imagine there were another offer coming in at exactly the same amount as your with pretty similar conditions. It might only take a small amount ($100, $1000 etc) higher to make your offer stand just that whisker above the other. Consider making an offer that is not a round number. It also is a good way of conveying that really is your best offer. 
6.   Introductory Letter: Let them see you. 
Most of the time you'll be buying through an agent and the owner of the home won't meet you. This has lots of positive benefits of course, but it doesn't let the owners know more about you than what is on your offer to them. It doesn't allow them to see your personality. Imagine you're buying a lovingly renovated home that the sellers have put their heart and soul into, they've raised their family there, they love that home they're selling. An introductory letter explaining who you are, what your circumstances are, what you plan to do in the home (ie: raise your family, live there forever, send your kids to the local school, etc etc) might just be the deciding point between yours and another similar offer. Will this work every time? Of course not. Can it hurt? Unless you somehow offend the owners with your letter, it's unlikely.
Here's an example letter used by some of our lovely clients to give you an idea. (Names and jobs have been changed, but man we do really wish they were a magician and a cupcake baker!!)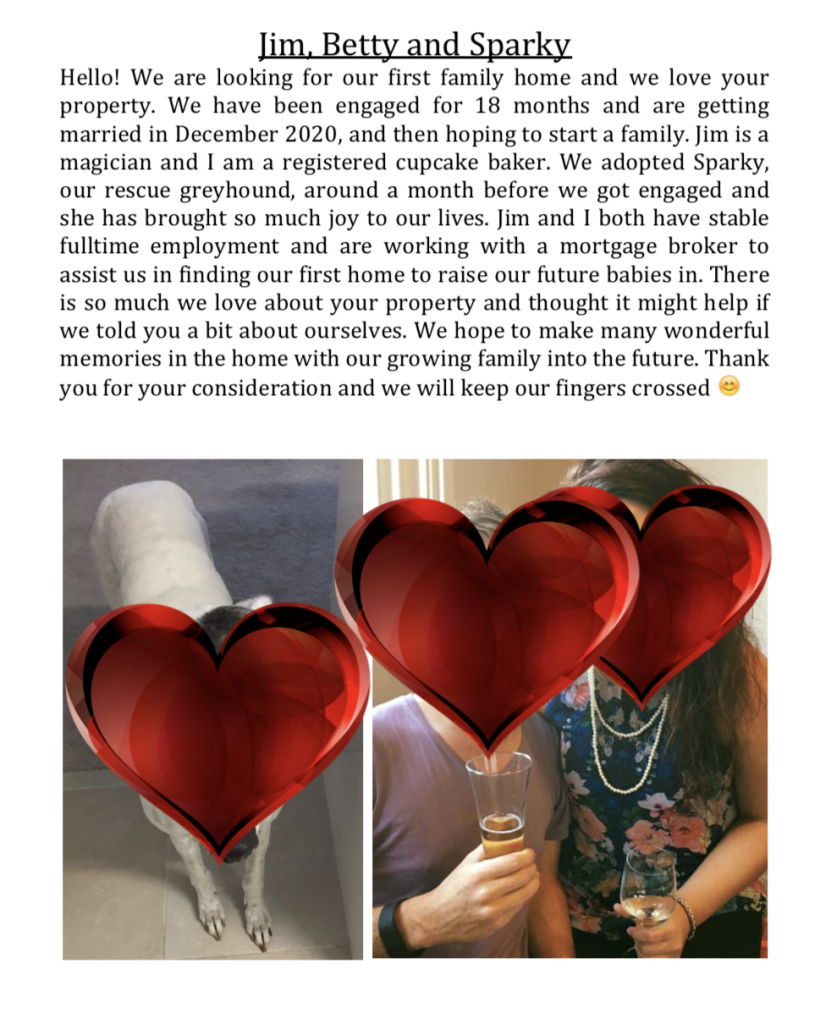 Good luck and I hope some of the tips are of use!
Kirsty